Home
Authors
Posts by Asif H. Raja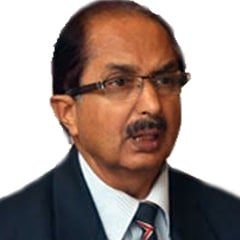 Brig. General Asif Haroon Raja a Member Board of Advisors Opinion Maker is Staff College and Armed Forces WarCoursequalified holds MSc war studies degree; a second generation officer, he fought the epic battle of Hilli in northwest East Bengal during 1971 war, in which Maj M. Akram received Nishan-e-Haider posthumously.
He served as Directing Staff Command & Staff College, Defence Attaché Egypt, and Sudan and Dean of Corps of Military Attaches in Cairo. He commanded the heaviest brigade in Kashmir. He is lingual and speaks English, Pashto and Punjabi fluently.
He is author of books titled 'Battle of Hilli', '1948, 1965 & 1971 Kashmir Battles and Freedom Struggle', 'Muhammad bin Qasim to Gen Musharraf', Roots of 1971 Tragedy'; has written a number of motivational pamphlets. Draft of his next book 'Tangled Knot of Kashmir' is ready.
He is a defense analyst and columnist and writes articles on security, defense and political matters for numerous international/national publications.