Go Back To Part I: NATO's Eastward Expansionism
---
by Asif Haroon Raja
Buoyed by the heavy supply of arms and financial support to the beleaguered Zelensky regime by the US ($53 billion, with $12 billion in the pipeline and $ 2 billion for energy subsidies) and Europe, coupled with successes in Kharkov, Lyman, and Dudchany, recapturing 8000 sq km territory, Zelensky vowed to liberate the entire country as Russia pressed on with its referendums in Luhansk, Donetsk, Kherson and Zaporizhia regions. Zelensky is asking for German Leopard tanks to mount a bigger offensive.
He pledged to retake the southern Kherson region and the eastern Donbass which includes Luhansk, as well as Crimea. He didn't specify how he intended to accomplish all this on his own.
The significant development is that the Ukraine forces have climbed the ladder from counterattacks to shallow counter-offensives. A deeper strategic counter-offensive will make the difference.
The US is failing to see that Ukraine is not winning the war despite these gains. Russian forces cannot be pushed out by the Ukrainian forces without the direct intervention of the US and NATO forces. And if they jump in, China is most likely to step in as well and that would mean a bigger conflagration.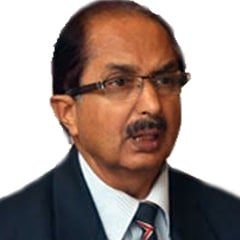 Brig. General Asif Haroon Raja a Member Board of Advisors Opinion Maker is Staff College and Armed Forces WarCoursequalified holds MSc war studies degree; a second generation officer, he fought the epic battle of Hilli in northwest East Bengal during 1971 war, in which Maj M. Akram received Nishan-e-Haider posthumously.
He served as Directing Staff Command & Staff College, Defence Attaché Egypt, and Sudan and Dean of Corps of Military Attaches in Cairo. He commanded the heaviest brigade in Kashmir. He is lingual and speaks English, Pashto and Punjabi fluently.
He is author of books titled 'Battle of Hilli', '1948, 1965 & 1971 Kashmir Battles and Freedom Struggle', 'Muhammad bin Qasim to Gen Musharraf', Roots of 1971 Tragedy'; has written a number of motivational pamphlets. Draft of his next book 'Tangled Knot of Kashmir' is ready.
He is a defense analyst and columnist and writes articles on security, defense and political matters for numerous international/national publications.

DISCLOSURE: All content herein is owned by author exclusively.  Expressed opinions are NOT necessarily the views of Veterans Today Network (VTN), authors, affiliates, advertisers, sponsors, partners or technicians. Some content may be satirical in nature. All images within are full responsibility of author and NOT VTN.