by Asif Haroon Raja
After withholding the decision on the Toshakhana case in reserve for a month, the most popular leader Imran Khan (IK) was disqualified by the five-member ECP (Election Commission Pakistan) Bench at 2 pm on 21 Oct, for not sharing details of Toshakhana gifts and proceeds from their sale. He was charged with making a false statement and committing the offense of corrupt practices punishable under Section 174 of the Election Act. His National assembly (NA) seat was declared vacant and the matter was referred to the trial court for awarding punishment as deemed fit.
From the time of the disqualification of Imran Khan's verdict by the ECP Bench, the emotions are high and the tongues are wagging. One side is rejoicing, and the other side is mourning and bursting with anger. Both sides are exchanging barbs.
This sort of atmosphere was seen in July 2017, when the SC Bench had disqualified NS for life and he was deprived of his seats of PM and party chairmanship. In great anguish, NS had raised the slogan of 'Mujhey Kyun Nikala'. History has repeated itself and the wheel of fortune has completed its full circle since 2018 elections in July 2018. This time the axe fell on IK.
The PTI and followers of IK are in an ugly mood and would have continued with their protests in all the major cities, had IK not restrained them. He stated in a radio message that he will fight the battle in the courts to nullify the unjust and illegal verdict of the EC. Another reason for the restraining call could be the poor turnout of the protesters who were easily dispersed by the police
The leaders of the opposite camps are giving vitriolic statements against each other. Shehbaz Gill said that the Chief Election Commissioner (CEC) is the personal servant of NS. Pervez Elahi termed the verdict a cruel joke. Fawad Ch ridiculed the CEC.
The PDM leaders are saying that the so-called Mr. Clean and the idol of honesty calling all his political rivals thieves and dacoits has finally been exposed and nabbed as the biggest thief and he is no longer Sadiq and Ameen.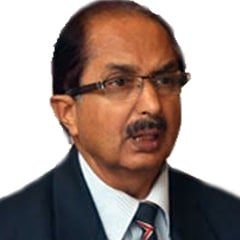 Brig. General Asif Haroon Raja a Member Board of Advisors Opinion Maker is Staff College and Armed Forces WarCoursequalified holds MSc war studies degree; a second generation officer, he fought the epic battle of Hilli in northwest East Bengal during 1971 war, in which Maj M. Akram received Nishan-e-Haider posthumously.
He served as Directing Staff Command & Staff College, Defence Attaché Egypt, and Sudan and Dean of Corps of Military Attaches in Cairo. He commanded the heaviest brigade in Kashmir. He is lingual and speaks English, Pashto and Punjabi fluently.
He is author of books titled 'Battle of Hilli', '1948, 1965 & 1971 Kashmir Battles and Freedom Struggle', 'Muhammad bin Qasim to Gen Musharraf', Roots of 1971 Tragedy'; has written a number of motivational pamphlets. Draft of his next book 'Tangled Knot of Kashmir' is ready.
He is a defense analyst and columnist and writes articles on security, defense and political matters for numerous international/national publications.

DISCLOSURE: All content herein is owned by author exclusively.  Expressed opinions are NOT necessarily the views of Veterans Today Network (VTN), authors, affiliates, advertisers, sponsors, partners or technicians. Some content may be satirical in nature. All images within are full responsibility of author and NOT VTN.