When Ghislaine Maxwell's sister, Isabel, was among the first people to place a pre-order for my book Ghislaine Maxwell: An Unauthorized Biography, and when, after it went on sale on Amazon, it began to get bad reviews—I knew something was up.
In the book, I name many people who knew Ghislaine "back in the day". Many of these people, if you examine them closely, are connected to one nefarious activity or another. Pedophilia, arms smuggling, drug dealing—and even murder. Many of them had their photos and information scrubbed from the internet the moment my book went on sale. I encourage you to dig into the names included. You won't be disappointed—I wasn't.
Donald Trump
In Ghislaine Maxwell: An Unauthorized Biography I share the fact that Donald Trump and Robert Maxwell had been long-term friends. Their friendship went back many years. Long before Ghislaine Maxwell moved to New York in 1991 (temporarily) and permanently in 1992.
If you've read my book, you know Trump and "Bob" shared many of their professional people. Public relations people, attorneys, etc. I name names and explain who they are. Some, like Roy Cohn's business partner, remained in the shadows. These people link to others who are connected to the horrifying network of "philanthropists" and "moguls". TRANSLATION: intelligence sex trafficking of children and other persons.
Donald Trump (above) in 1989 on the Lady Ghislaine yacht with Robert Maxwell (far right). A portrait of Ghislaine wearing a white sweater and jeans hangs in the background. The other two men in the photograph are Senator John Tower (short man with glasses—who Maxwell blackmailed to get access into Sandia Laboratories) and Mike Wallace (Interlochen alumni) and whose name appears Jeffrey Epstein's black book.
In my latest book "Creating Epstein: Bill Barr, Leslie Wexner & the CIA" I ponder if Mike Wallace taught Ghislaine Maxwell how to operate a submarine—once you read the info I dug up on Wallace—you'll understand why…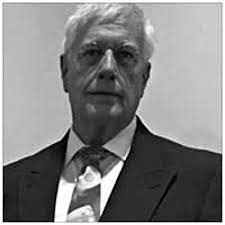 Gordon Duff is a Marine combat veteran of the Vietnam War. He is a disabled veteran and has worked on veterans and POW issues for decades. Gordon is an accredited diplomat and is generally accepted as one of the top global intelligence specialists. He manages the world's largest private intelligence organization and regularly consults with governments challenged by security issues.
Duff has traveled extensively, is published around the world and is a regular guest on TV and radio in more than "several" countries. He is also a trained chef, wine enthusiast, avid motorcyclist and gunsmith specializing in historical weapons and restoration. Business experience and interests are in energy and defense technology.
DISCLOSURE: All content herein is owned by author exclusively.  Expressed opinions are NOT necessarily the views of Veterans Today Network (VTN), authors, affiliates, advertisers, sponsors, partners or technicians. Some content may be satirical in nature. All images within are full responsibility of author and NOT VTN.