I entirely agree with President Trump's very able legal team – the Democrat impeachment process is an assault upon democracy. It's a naked attempt to reverse the result of the 2016 election and interfere with the 2020 election by taking out a candidate the Dems know they can't beat.  It's a democratic disgrace, small 'd'.
Last week's report by the Government Accountability Office, a highly partisan, non-independent branch of Congress can safely be ignored. Clearly timed to influence the trial in the Senate its conclusions are junk. How can it be a crime for the executive branch to go under budget on funds allocated by Congress? The GAO is a joke, no offense intended.
Unsurprisingly the focus is now turning towards the dubious circumstances under which Hunter Biden was appointed to the Burisma Board. The Democrats are on shaky ground here and they know it. The population of Pompeii was on the firmer ground back in AD79.
The Democrats are still banging on about Russian hacking of the DNC as though it actually happened. This conspiracy theory was fact-checked over two years ago. The download speed was way too high for a hack. The download had to be done locally, probably onto a portable hard drive.
Moreover, it was done in Eastern time, that is to say not from Russia!
The very fact that this nonsense is still being pushed shows that the Democrats are acting in bad faith. Overblown rhetoric on the Senate floor can't make up for an absence of evidence of wrong-doing by the President, either over the 2016 election or his dealings with Ukraine.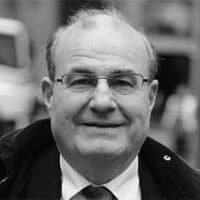 Michael Shrimpton was a barrister from his call to the Bar in London in 1983 until being disbarred in 2019 over a fraudulently obtained conviction. He is a specialist in National Security and Constitutional Law, Strategic Intelligence, and Counter-terrorism. He is a former Adjunct Professor of Intelligence Studies at the American Military University.
DISCLOSURE: All content herein is owned by author exclusively.  Expressed opinions are NOT necessarily the views of Veterans Today Network (VTN), authors, affiliates, advertisers, sponsors, partners or technicians. Some content may be satirical in nature. All images within are full responsibility of author and NOT VTN.