by Frederick S. Meessen, American Legion Post 492, West Lafayette, Indiana
Veterans around the country, active duty military, recovering Veterans, and civilians worldwide have become fans of a special project called "Pin-Ups For Vets". The project's "Pin-Up In Chief" Gina Elise, also the creator and pin-up model in this nostalgic recreation of the 1940's pin-up girl calendar, is on her way to Walter Reed Army Medical Center and Bethesda Naval Hospital and is looking for the public's support.
"Stars and Stripes" newspaper, which goes to all active-duty military, recently covered Gina Elise's project for the second time. The deployed troops have enthusiastically supported the calendar project. Gina Elise has had FOUR American flags flown in her honor over military bases in Iraq, and she has received hundreds of letters of appreciation from the troops.
She has also received letters of thanks from military and Veterans Hospitals for her visits and gifts to the ill and injured Veterans. The California Jaycees Foundation and California Jr. Chamber of Commerce selected her as "2007 Outstanding Young Californian" for creating this project to support America's Veterans and active-duty troops.
Gina Elise, dubbed "the calendar angel" by the deployed troops and the internet's bloggers, graduated Phi Beta Kappa from UCLA in 2004. She is the granddaughter of a Veteran who served 4 years in the Army during World War II. She wanted to do something positive to honor her grandfather's military service to the U.S. and to also focus attention on Veterans' healthcare issues.
Gina Elise begins the 2nd year of a unique fundraiser project she created to raise money for hospitalized Veterans. She is sponsored by American Legion Post 360, Lake Arrowhead, CA, and raises funds for the Post to donate to America's hospitalized Veterans. Her project has been embraced by hundreds of hospitalized Vets, and the project has boosted the morale of the deployed troops in Iraq and Afghanistan.
People around the world have purchased her "Pin-Ups For Vets" calendars to support America's ill and injured Vets and deployed troops.
Gina Elise has visited and delivered her nostalgic "Pin-Ups For Vets" calendars to hundreds of Veterans at VA and military hospitals over this past year. Thousands of dollars have been raised to help hospitalized Veterans and under-funded healthcare programs.
Gina Elise, also dubbed " the new Betty Grable", appears as the blonde, brunette, redhead, and raven-haired model in the pin-up calendar, inspired by the 1940's pin-up girls of World War II. An Army Major in Iraq from the 10th Mountain Division recently painted a mural of Gina Elise's pin-up photo on a wall in the military base to help boost morale for the soldiers in his unit.
Gina Elise recently made a trip to Walter Reed Army Medical Center and Bethesda Naval Hospital to deliver the donated "Pin-Ups For Vets" calendars and posters to the recently Wounded Warriors.
The donated calendars and posters are inscribed with personalized messages of appreciation and get-well wishes to the ill and injured troops. Her goal is to bring a calendar to each of the Wounded Warriors, as well as the ill and injured Veterans, at these two hospitals. The proceeds from the sales of the 2008 calendar and posters will once again go to support an underfunded Veterans healthcare program.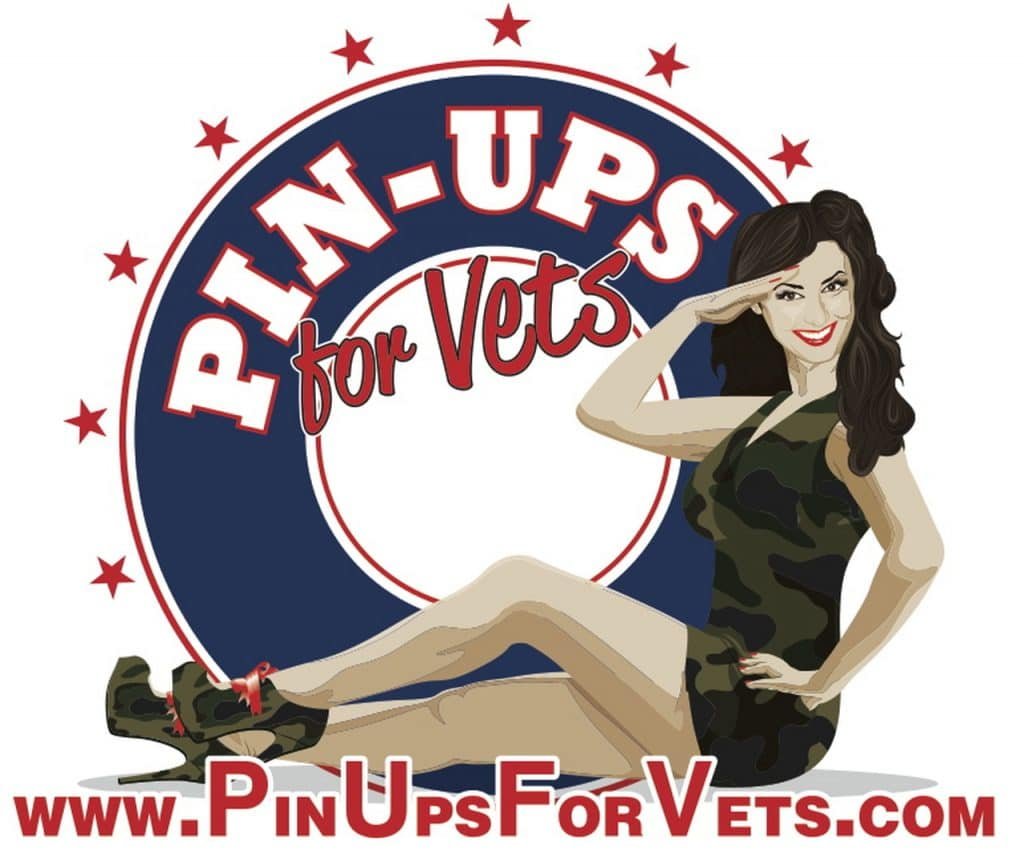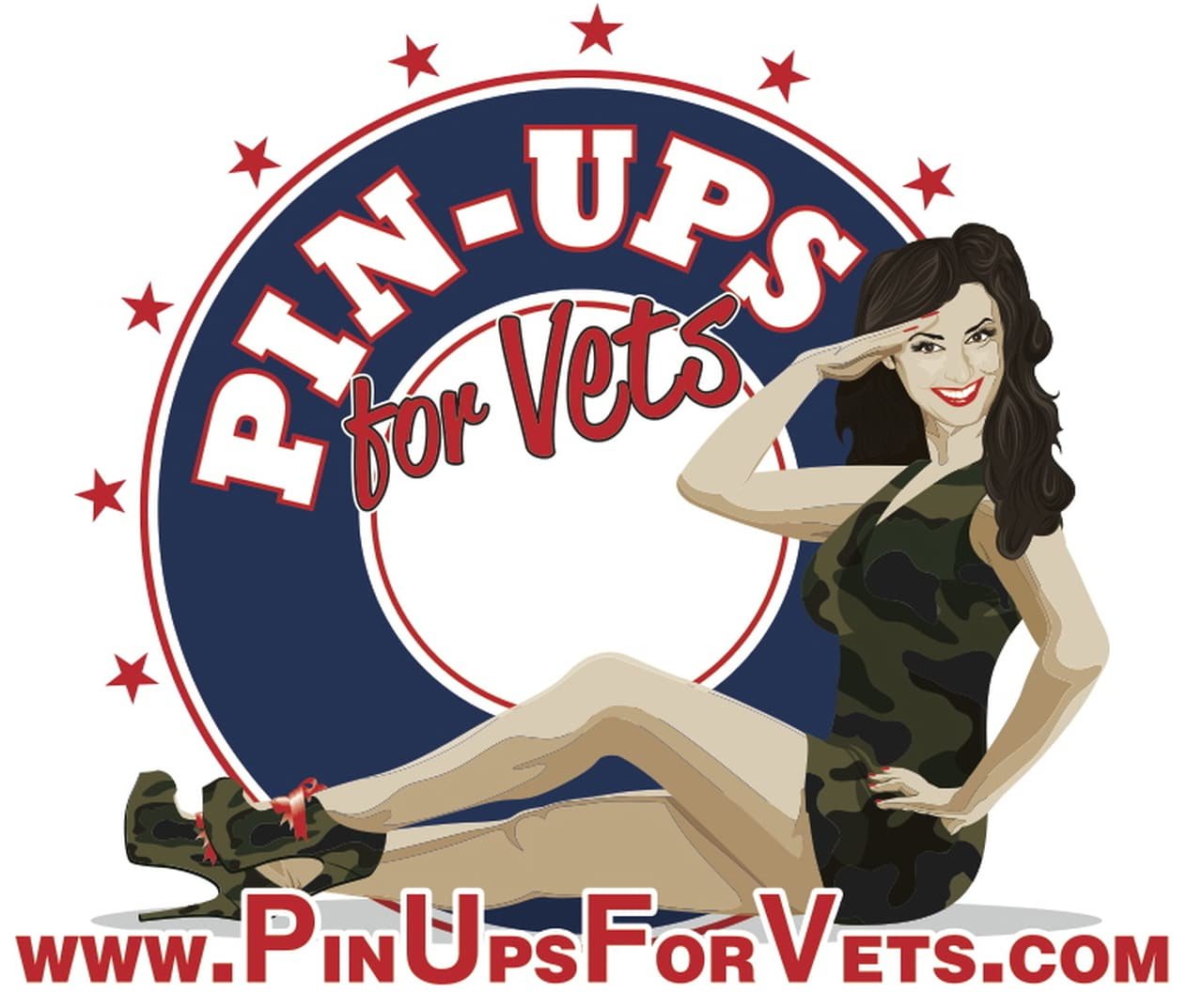 Gina Elise gets many requests from the deployed troops for her calendars like this one:
---
"Dearest Gina,
I am the Maneuver Platoon Sergeant here in ________ Afghanistan. I have a total of 20 Airborne Paratroopers under my supervision. We conduct a variety of patrols and leader engagements throughout our AO.
I found your story in the "Stars and Stripes" and thought of how many calendars are needed where we are located. See, we are a very small FOB, slightly over 200 Soldiers, Sailors, and Airmen. We lack lots of amenities located at larger FOBs (ie: Cold Drinks, Mail, Finance, and lots more). I wish to ask if you could send a few of your calendars to our FOB for distribution. I thank you for all your support from the home front. "
---
Hundreds of military members, Veterans, and civilians visit Gina Elise's website daily at: PinUpsForVets.com and go to the "behind the project" pages to read more about this calendar fundraiser for hospitalized Veterans. Gina Elise's fans frequently visit the "In the Field" pages to see all the smiling Vets and troops with the calendars and to learn more about Gina Elise's visits to military and VA Hospitals.
Pin-up fans or people wanting to support American's hospitalized Veterans and troops can visit Gina Elise's website to order a calendar or a poster for themselves, for a hospitalized Veteran, or for a deployed soldier. People can also order by mailing a check to: Gina Elise, P.O. Box 14, Redlands, CA 92373. Calendars are 22.00 and posters are 18.00 ( includes tax and shipping).
---
Gina Elise can be contacted on her website: www.PinupsforVets.com or by sending an e-mail to: [email protected]
DISCLOSURE: All content herein is owned by author exclusively.  Expressed opinions are NOT necessarily the views of Veterans Today Network (VTN), authors, affiliates, advertisers, sponsors, partners or technicians. Some content may be satirical in nature. All images within are full responsibility of author and NOT VTN.