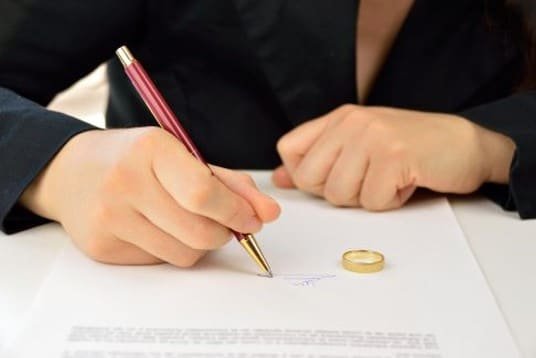 "Divorce" is one of the most dreaded words in the English language, and with good reason. Even under the best circumstances, a divorce means a change in your life, having to rebuild much of what you and your spouse had built together, and potential implications for any children you have together. Under the worst circumstances, it can be all that and more besides.
It may be tempting in the face of divorce to decide that you'll handle it all yourself. After all, you know your situation and your spouse better than anyone, right? Why should you waste money hiring an attorney? As it turns out, this can be a very serious mistake, and it's one that many people make. If you are going through a divorce, you should absolutely consult with an experienced family law attorney. In this blog post, we'll go over just a few of the reasons why.
Reason #1: A Family Law Attorney Can Remain Objective
Let's not mince words: divorce is a stressful, emotional process for just about everyone involved. With passions running high, it can be difficult to take a step back and examine the situation on the basis of the facts. A family law attorney with experience working as a divorce lawyer can be the objective voice that you need.
The divorce lawyer can act as counsel on legal matters and also offer you the best advice on how to proceed. Many people, particularly during an acrimonious divorce, may become focused on "winning" the divorce and "beating" their spouse. However, this may not ultimately be the best outcome. A veteran divorce lawyer can help you keep a cool head, which can help you get the best results when all is said and done.
Reason #2: Divorces are Complicated (and Consequential)
It's not an exaggeration to say that your life will inevitably change following a divorce. The process of negotiating a divorce means deciding how to equitably allocate many of your resources:
You and your spouse will split assets as well as debts. This can include liquid cash (bank accounts), property, investments, mortgages, and medical debt.
You and your spouse will determine child custody and parenting time. Who will make the primary decision-maker for your children? Which parent will your children live with, where will they go to school, and what will visitation or shared custody look like? This takes experience and knowledge to work out what is best for the child.
You and your spouse will have to examine income and arrange how to best support living expenses, particularly if children are involved. If you were the primary breadwinner, you may have to financially support your spouse with supplemental income, and vice versa.
If you're not the primary custodian of your children, you and your spouse will arrange child support payments to ensure your children do not go unsupported until they become adults.
As you can imagine, this can be a lot to work out. For someone who isn't an experienced family law attorney, it can be incredibly overwhelming. To avoid the risk of having your financial future seriously hamstrung in ways that ultimately aren't fair, you should rely on a veteran divorce lawyer.
Reason #3: You Can Better Understand the Law and Your Rights
One commonly quoted statistic about divorces is that, in the United States, fathers are granted custody of their children less than 20 percent of the time. This is often cited as an example of divorce courts being biased against fathers. However, when you delve into the numbers, fewer than 10 percent of child custody arrangements are determined by the courts. For the most part, men get custody less often either because they agree that the mother should have primary custody or because they simply don't ask for it.
This is a self-reinforcing problem. Men who believe that the system is biased against them might not seek custody at all, further skewing the numbers.
This is just one example of a situation where not knowing your legal rights can have serious, life-long consequences. Regardless of your gender or your parental status, it's important to know, one, local law governing divorce arrangements and, two, what your rights are so that you can stand up for them. An experienced family law attorney will know both of these things, so be sure to consult with one so that you don't lose something as important as custody—even shared custody—of a child you love.
Reason #4: Lawyers Know How to the Handle Red Tape
One thing they never tell you about going through a divorce: there's a lot of paperwork involved. Even just filing for divorce can be complicated. The last thing you want is to potentially get penalized in divorce proceedings just because you neglected to fill out the paperwork properly or promptly. While it's true that misfiled paperwork is unlikely to have serious ramifications, there's always the chance—so why risk it?
A lawyer not only knows how and where to file the proper documentation but has the experience necessary to do it as painlessly as possible so that you're not spending weekends up to your arms in paperwork.
Reason #5: An Experienced Family Law Attorney Can Ensure the Fairest Outcome
As we mentioned earlier, a divorce can be an emotional time where passions run high. Ultimately, especially if children are involved, what's important is working out an arrangement that benefits all parties as much as possible. A family law attorney representing you and working with your spouse's legal counsel can help ensure that things are as fair as possible. Not only will you get what you have the legal right to get, but your spouse will get what they have the legal right to as a co-equal.
This is ultimately the best way to keep passions from becoming enflamed and to keep the upsetting process of divorce from turning fully acrimonious. Especially if you have children, an amicable divorce will be the best way to ensure that you and your spouse settle on the best terms possible.
For this reason alone, working with a family law attorney knowledgeable in divorces is worth it. As we've seen at Warren Allen, it's far from the only reason, though. If you're unfortunately beginning the process of a divorce, contact a trusted local divorce lawyer today.
ATTENTION READERS
We See The World From All Sides and Want YOU To Be Fully Informed
In fact, intentional disinformation is a disgraceful scourge in media today. So to assuage any possible errant incorrect information posted herein, we strongly encourage you to seek corroboration from other non-VT sources before forming educated opinion. In addition, to get a clear comprehension of VT's independent non-censored media, please read our
Policies and Disclosures
.
Due to the nature of uncensored content posted by VT's fully independent international writers, VT cannot guarantee absolute validity. All content is owned by the author exclusively. Expressed opinions are NOT necessarily the views of VT, other authors, affiliates, advertisers, sponsors, partners, or technicians. Some content may be satirical in nature. All images are the full responsibility of the article author and NOT VT.
About VT
-
Comment Policy