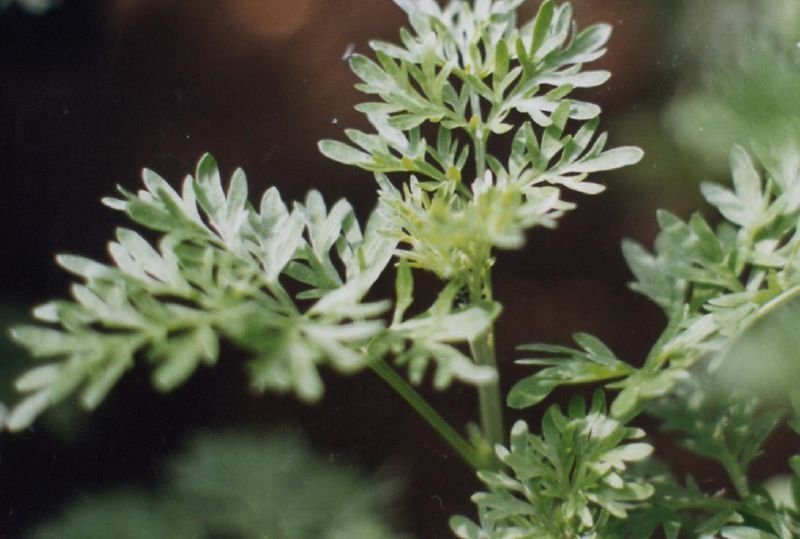 Wormwood (Artemisia absinthum) is a species of Artemisia native to temperate regions of Eurasia and Northern Africa. It has now become widely naturalized in Canada and the northern United States as well, and is often grown as an ornamental plant. It is also a primary ingredient in the strong alcoholic beverage "absinthe," as well as in other alcoholic beverages.
The wormwood herb is used for many different reasons including digestive issues, loss of appetite, upset stomach, gall bladder disease, intestinal spasms, fever, liver disease, depression, muscle pain, memory loss, to improve libido, and to stimulate sweating. It also has significant benefit for killing parasitic worms.
Parasites
A parasite is an organism that lives in or on a host organism and receives its nutritional needs from that host. Parasites are abundant in nature, and humans suffer from them as well. The number of people suffering from parasites is alarming, and what is more alarming is how little these parasitic infections are diagnosed or acknowledged.
Helminths
Helminths are parasitic worms, they are one of the three major classifications of parasites—the other two being ectoparasites (like lice and fleas) and protozoa (single-celled organisms). As most parasites are small and even microscopic, helminths are considered to be giants in the world of parasitology as they can typically be seen with the naked eye. Many are intestinal worms that are soil-transmitted and infect the gastrointestinal tract. Other parasitic worms such as schistosomes reside in blood vessels.
How Do You Get a Helminth Infection?
There are a variety of ways that humans can get infected with helminths. Typically, it is through ingesting the microscopic eggs of these creatures. Once the eggs are swallowed, the larvae hatch and invade the intestinal mucosa, and are then carried through the circulation to the lungs. The larvae further mature in the lungs during a period of 10 to 14 days, penetrate the alveolar walls, ascend to the throat and are then swallowed. Upon reaching the small intestine, they develop into adult worms and can live for 1 to 2 years. Typically, these eggs are ingested either through consuming unwashed vegetables grown in contaminated soil, or by walking barefoot on contaminated soil—which is why most helminth infections are referred to as "soil-transmitted helminths."
Most Common Types of Helminths
There are three types of helminths that known to be the most common causes of helminth infection—Ascaris (roundworm), hookworm, and whipworm. It estimated that approximately 807 million to 1.1 billion people suffer from Ascaris infection globally, approximately 604 to 795 million from whipworm globally, and approximately 576 to 740 million from hookworm globally.
Signs of Infection
People with light soil-transmitted helminth infections usually have no symptoms. However, more serious infections can cause a range of health problems, including abdominal pain, diarrhea, fatigue, skin rashes, brain fog, blood and protein loss, rectal prolapse, and physical and cognitive growth retardation.
Using Wormwood to Get Rid of Helminths
Wormwood has been used effectively as an anti-parasitic remedy for centuries, and is specifically effective for treating helminth infections. Wormwood contains numerous active compounds with anti-parasitic properties, the most notable of which is α-Thujone. This compound has been studied extensively for its ability to kill helminths. It is a very potent compound, so it is not recommended for long-term use, but when used as part of a parasite detox protocol it is extremely effective.
Wormwood is often used in conjunction with two other anti-parasitic herbs—green black walnut hulls and cloves—to make a formula known as wormwood complex. This complex can be purchased from certain herbal supplement companies, and it's better to purchase a professional formula than to try to make one yourself. Zuma Nutrition has an excellent Parasite Detox formula (https://www.zumanutrition.com/products/parasite-detox) Vthat contains these three herbs from wild harvested sources. They also follow a therapeutic extraction method that makes their formula very potent and effective.
Summary
Parasitic infections are extremely common and significantly underdiagnosed. They often show little to no symptoms, but in many cases, they can lead to numerous health issues. Wormwood is a plant with powerful anti-parasitic properties, and when used in conjunction with cloves and green black walnut hulls, it forms a complete parasite detox remedy.
Sources
https://www.cdc.gov/parasites/ascariasis/biology.html
https://www.cdc.gov/parasites/sth/index.html
https://www.pnas.org/content/97/8/3826
ATTENTION READERS
We See The World From All Sides and Want YOU To Be Fully Informed
In fact, intentional disinformation is a disgraceful scourge in media today. So to assuage any possible errant incorrect information posted herein, we strongly encourage you to seek corroboration from other non-VT sources before forming educated opinion. In addition, to get a clear comprehension of VT's independent non-censored media, please read our
Policies and Disclosures
.
Due to the nature of uncensored content posted by VT's fully independent international writers, VT cannot guarantee absolute validity. All content is owned by the author exclusively. Expressed opinions are NOT necessarily the views of VT, other authors, affiliates, advertisers, sponsors, partners, or technicians. Some content may be satirical in nature. All images are the full responsibility of the article author and NOT VT.
About VT
-
Comment Policy