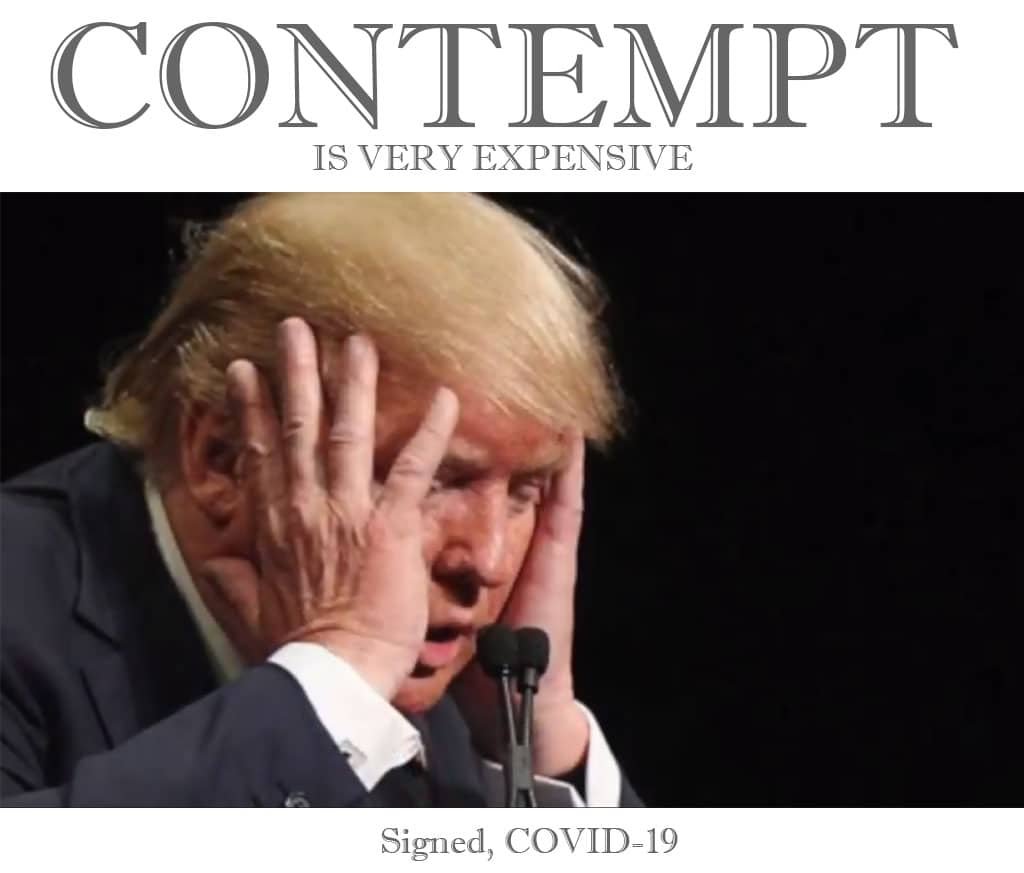 Last night, we learned that U.S. President Donald Trump and the First Lady Melania Trump have COVID-19.
If true and he has COVID-19, then this completes his circle of failure. He knew it was serious in January. He called it HOAX. He played games with it. He had no plan and failed to lead as over 200,000 died leading the worst response to this PANDEMIC worldwide by any country! FAILURE!
If this is an elaborate HOAX to get out of being responsible or to gain sympathy, then, by definition, this is an abject failure and the ultimate act of irresponsibility. FAILURE!
Either way, I do NOT wish harm on Donald Trump. But he has NO business leading the USA or anything. He is horrifically irresponsible; a shameful obnoxious meanspirited person who sets NO example. When called to lead, he dropped the ball.
I demand his immediate resignation. And if he gets sick, I wish citizen Trump a speedy recovery at home, no longer employed by we the taxpayers of the USA.
Source:  JohnnyPunish.com
Author Details
Johnny Punish, the artist, is the founder and General Manager of VT. He is also a writer, global citizen activist, visionary, musician, artist, entertainer, businessman, investor, life coach, and syndicated columnist. In business, he's known by the name John Allen

Punish was educated at the University of Nevada Las Vegas (1980-81) and California State University Fullerton (1981-1984) with studies in accounting and business. Before the "internets" were invented, he owned and ran (5) U.S. national newspapers.

He has over 100 original songs penned, recorded, produced and registered with ASCAP with several songs placed in feature films. His music is promoted worldwide and played on all digital networks and net radio.

Resources: BandCamp Store – Reverb Nation Music – YouTube Video Channel – Apple Music – SoundCloud – Spotify – Instagram – Twitter – Join Mailing List

Read Johnny's Full Bio at JohnnyPunish.com >>>
DISCLOSURE: All content herein is owned by author exclusively.  Expressed opinions are NOT necessarily the views of Veterans Today Network (VTN), authors, affiliates, advertisers, sponsors, partners or technicians. Some content may be satirical in nature. All images within are full responsibility of author and NOT VTN.