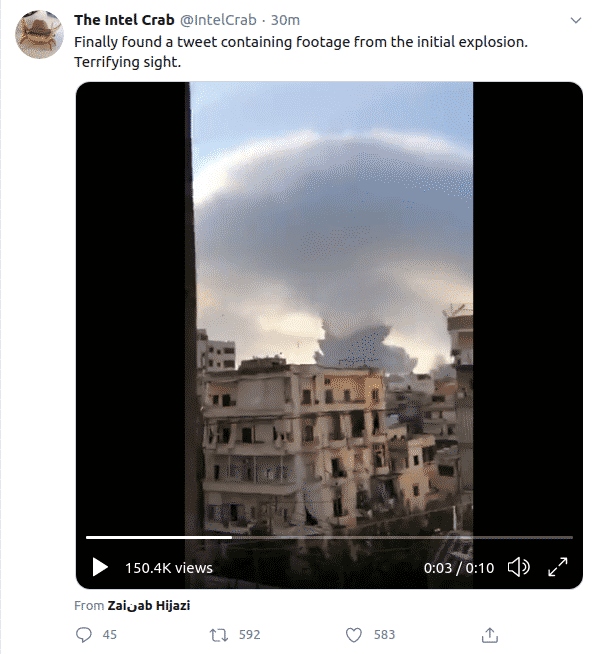 Today's alleged attack appears to confirm that Israel is protected by Trump.  VT is following up on all leads to confirm what really happened

Defense Minister Benny Gantz on Thursday instructed the IDF to bomb Lebanese infrastructure if Hezbollah harms IDF soldiers or Israeli civilians.
A senior defense official told Yisrael Hayom that Gantz issued the order to prepare such a response during meetings on Thursday with IDF Chief of Staff Lt. Gen. Aviv Kochavi and other members of the general staff.
Tensions have rapidly escalated between Israel and the terrorist organization since the death of Hezbollah terrorist Ali Kamel Mohsen Jawad, along with two other terrorists, during an airstrike on Damascus International Airport earlier this month.
Hezbollah has vowed revenge for Jawad's death, leading the IDF to move reinforcements to the northern border in preparation for an attack by the Shiite terror organization.
In Thursday's meetings, Kochavi presented the IDF's position on the matter, saying Israel must hold Hezbollah and the Lebanese government responsible for any future attack and its consequences.
According to the defense official, Israel didn't kill the Hezbollah terrorists who attempted to carry out an attack in the Har Dov area on Monday, and didn't release footage of the incident, in order to give the terror group a chance to save face and de-escalate the situation, but that Hezbollah was not taking the opportunity.
"If [Hezbollah] tries perpetrating another attack, we will see an unusual response from the IDF against [the organization] and the country of Lebanon," the official said.

DISCLOSURE: All content herein is owned by author exclusively.  Expressed opinions are NOT necessarily the views of Veterans Today Network (VTN), authors, affiliates, advertisers, sponsors, partners or technicians. Some content may be satirical in nature. All images within are full responsibility of author and NOT VTN.