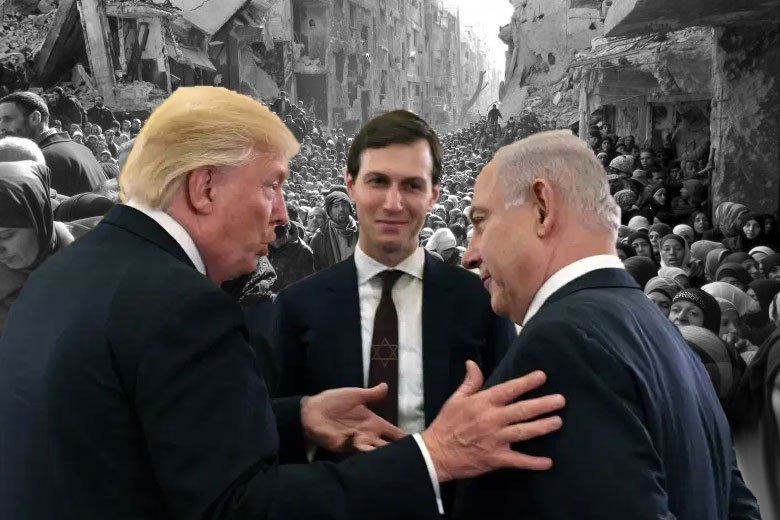 …by Stuart Littlewood, Scotland
After 70 years of pissing on the Palestinians America and Israel suddenly want to "improve" their lives. But when you look closer at Peace to Prosperity it's all about thieving more Palestinian land, stripping these good people of what remains of their self-respect and grinding them further into the Holy Land dust.
The Trump document's 180 pages are devoted to the self-aggrandizement of Israel and military domination of the Middle East, by proxy, by the warmongers of the US. And to achieve its aims Trump shamelessly circumvents international law, ignores existing UN resolutions and makes daft and insupportable claims.
How fitting that the unveiling ceremony was graced by an American president facing impeachment and an Israeli prime minister facing multiple corruption charges. Another party to the farce was Benny Gantz, Netanyahu's election rival, who commanded the infamous Operation Pillar of Defence (2012) and Operation Protective Edge (2014) onslaughts against Gaza and is no doubt wanted in many quarters for war crimes.
"This is clearly a serious proposal, reflecting extensive time and effort," said Dominic Raab, UK's foreign minister, in a statement. "We encourage them (the leaders) to give these plans genuine and fair consideration, and explore whether they might prove a first step on the road back to negotiations."
Prime minister Boris Johnson in the House of Commons said: "No peace plan is perfect, but this has the merit of a two-state solution. It would ensure Jerusalem is both the capital of Israel and the Palestinian people."
Can he not read? Trump's plan says: "Jerusalem will remain the sovereign capital of the State of Israel, and it should remain an undivided city. The sovereign capital of the State of Palestine should be in the section of East Jerusalem located in all areas east and north of the existing security barrier, including Kafr Aqab, the eastern part of Shuafat and Abu Dis, and could be named Al Quds or another name as determined by the State of Palestine."
Does Johnson not know that the Old City is part of East Jerusalem which is officially Palestinian and the Palestinians obviously want a presence there – and why not? Doesn't he understand that Al Quds is the Arabic name for the Holy City and it's a grave insult to suggest calling some village miles away by that name? I can imagine the fury of ordinary Palestinians who have dreamed of self-determination in their homeland – as promised – ever since the British left in 1948.
The British government says "the best way to achieve peace is through substantive peace talks between parties", as if negotiation between a strong party and a weak party, between one party with a gun to the other's head, is ever going to work.

Stuart Littlewood worked on jet fighters in the RAF then pursued a career in industrial marketing.
More recently he worked as a freelance and with innovation consultancies. Psychology degree Exeter University, Member of the Chartered Institute of Marketing. Served as a Cambridgeshire county councilor 1993-97 and on the Police Authority. Associate of the Royal Photographic Society. Since retiring has been a newspaper columnist and produced two photo-documentary books. He is a regular contributor to a number of internet news magazines.
Stuart's book Radio Free Palestine, with Foreword by Jeff Halper, tells the plight of the Palestinians under brutal occupation. It can now be read on the internet by visiting RadioFreePalestine.org.uk.
DISCLOSURE: All content herein is owned by author exclusively.  Expressed opinions are NOT necessarily the views of Veterans Today Network (VTN), authors, affiliates, advertisers, sponsors, partners or technicians. Some content may be satirical in nature. All images within are full responsibility of author and NOT VTN.