by Fabio Giuseppe Carlo Carisio for VT Italy
"I hate sin! Fortunate our country, if it, mother of law, wanted to perfect its laws and customs in this sense in the light of honesty and Christian principles"
Saint Pio from Pietrelcina
These words were certainly pronounced by Italian Friar Pio before 1959, the date of the publication of the volume which contains its pearls of Christian and Catholic wisdom, but above all human and social, so current as to appear prophetic. I read them today, for certainly divine inspiration, in the diary "Good Day … A thought for every day of the year" from the special edition for the beatification of 1999 by the Apulian Franciscan then canonized by John Paul II in 2002.
Francesco Forgione (Pietrelcina, Benevento, 25 May 1887 – San Giovanni Rotondo, Foggia, 23 September 1968), appears suited to the Minor Order founded by the St. Franciscus from Assisi since his baptism by virtue of the name, which in order to adhere to the monastic life changed Pio (Pius), keeping faith with the meaning of this denomination with his works of spiritual and material mercy and with his religious devotion beyond all ecclesiastical persecution.
The friar of the Stigmata of the Passion of Christ, painful and bleeding for fifty years, was a Capuchin Franciscan much loved and equally disputed, not so much for the ways at times a little rough with the sinners from vacillating repentance or the "Gospel- do-it-yourself ", as much as for his love for the truth expressed with clear sincerity and luminous simplicity.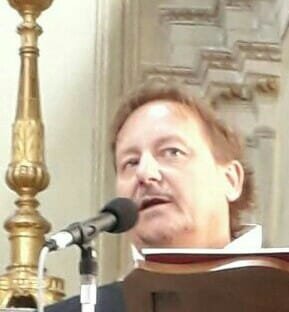 Fabio is Director and Editor of Gospa News; a Christian Information Journal.
Fabio Giuseppe Carlo Carisio, born on 24/2/1967 in Borgosesia, started working as a reporter when he was only 19 years old in the alpine area of Valsesia, Piedmont, his birth region in Italy. After studying literature and history at the Catholic University of the Sacred Heart in Milan, he became deputy director of a local newspaper and specialized in judicial reporting.
For about 15 years he is a correspondent from Northern Italy for the Italian newspapers Libero and Il Giornale, also writing important revelations on the Ustica massacre, a report on Freemasonry and organized crime.
With independent investigations, he collaborates with Carabinieri and Guardia di Finanza in important investigations that conclude with the arrest of Camorra entrepreneurs or corrupt politicians.
In July 2018 he found the counter-information web media Gospa News focused on geopolitics, terrorism, Middle East and military intelligence. He is a correspondent from Italy for the French news site Reseau International.
He worked many years for the magazine Art & Wine as an art critic and curator
DISCLOSURE: All content herein is owned by author exclusively.  Expressed opinions are NOT necessarily the views of Veterans Today Network (VTN), authors, affiliates, advertisers, sponsors, partners or technicians. Some content may be satirical in nature. All images within are full responsibility of author and NOT VTN.