In true Hollywood style SARS in back, only this time SARS 2.0 is new and improved and threatens to be far more deadly than the old SARS.
First, let us familiarise ourselves with the broad details of this new outbreak with this story from RT:
China's new killer virus is mutated SARS & maybe one more mutation away from infecting millions. Will it make the lethal leap?
20 Jan 2020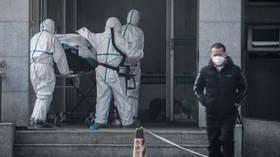 Peter Andrews is an Irish science journalist and writer, based in London. He has a background in the life sciences and graduated from the University of Glasgow with a degree in Genetics
The deadly Chinese virus is turning up in more and more places, and the number of cases tripled over the weekend. But how bad could things get, and is there anything that could stop it before it's too late?
It seems a bit like the beginning of a Hollywood thriller. An ordinary winter's day at Wuhan's seafood and wildlife market. Market traders, stalls packed with meat and fish, trying to flog their wares. The shoppers, handling the products and trying to find the best deals. But Wuhan is hundreds of miles from the ocean, meaning any 'fresh' fish and shellfish for sale was probably anything but.
We know that something at the market, perhaps a batch of dodgy crabs or some squawking chickens packed together in cages, was carrying a deadly microscopic threat. Little could punters know that hundreds, if not thousands of them, were being infected…
What is it?
The virus, 2019-nCoV, targets the respiratory system and causes coughing, fever and breathing difficulties. Fluid can be drained from the lungs, the airways cleared and expanded and oxygen delivered by mask but these are all just ways of alleviating the symptoms.
Rapidly spreading: Chinese authorities confirm 136 NEW cases of the deadly virus in 2 days
Antibiotics are useless against viruses — when you get one, the doctor tells you to get plenty of rest and gives you a lollipop. Against a virus, your body's immune system is your only line of defense. The only real external protection against viruses is vaccines — but these can take a long time to develop, and are not always effective. Moreover, if and when the virus mutates, vaccination becomes useless — this happens almost every winter with influenza when the doctors play a guessing game about which strains of flu will spread that year.

DISCLOSURE: All content herein is owned by author exclusively.  Expressed opinions are NOT necessarily the views of Veterans Today Network (VTN), authors, affiliates, advertisers, sponsors, partners or technicians. Some content may be satirical in nature. All images within are full responsibility of author and NOT VTN.